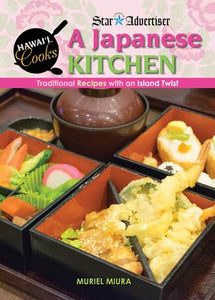 The latest and destined to be the bestselling cookbook in the Hawai'i Cooks series. Other titles: A Korean Kitchen, An Okinawan Kitchen, A Portuguese Kitchen, A Chinese Kitchen, A Filipino Kitchen.
Muriel Miura's niche is Japanese cooking, Hawai'i-style, and her guiding philosophy has always been that preparing food should be approachable, fun, and familycentered. She has shared her knowledge for more than five decades via classes, television shows, and more than twenty books, always seeking to keep traditional techniques alive.
In A Japanese Kitchen, Miura gives us 170 recipes based upon her family's treasury of favorites. Here you'll explore the essence of Japanese cooking, from Zensai (appetizers) to Okashi (desserts). There are many centuries-old recipes updated and Westernized to meet today's tastes and lifestyles, and others that more clearly reflect the 150-year legacy of the Japanese in Hawai'i.
A Japanese Kitchen is extensively illustrated, and includes detailed background information, cultural insights, and family vignettes, as well as ingredient and recipe indexes, a glossary, and essays on Japanese traditions and celebrations.
Food historian Arnold Hiura's introduction shows how Japanese cooking has evolved in Hawai'i. Miura's no-nonsense approach demystifies Japanese cuisine for all cooks, beginner to advanced.
Product Details: 
Authors: Muriel Miura
Series:

 

Hawaii Cooks
Hardcover:

 

172 pages
Publisher:

 

Mutual Publishing, LLC  (2017)
Language:

 

English
ISBN:

 

978-1939487-83-4
Product Dimensions:

 

6 x 9 inches