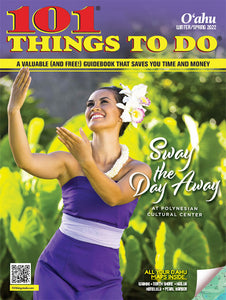 One of the first questions from visitors is "What should I do when I'm on O'ahu?" That's a tough question for any Hawai'i local—not because there isn't anything to do, but because there's so much to do! 
Whatever your reason for "gathering" here, we're happy to show you the spirit of aloha and delighted to entertain you with 101 THINGS TO DO!
You will receive the latest issues* — the cover will differ than what is pictured here.  
*Shipping should take at least 1 to 2 weeks.