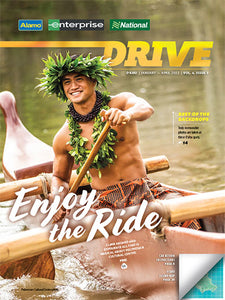 E komo mai, or "welcome" to paradise. Are you ready to experience all that O'ahu has to offer? We hope so, because we're about to maximize your visit to the most populated island within the Hawaiian archipelago — and home of the world-famous beachfront neighborhood, Waikiki! This magazine has been carefully built to steer you in the direction of many exciting activities, awe-inspiring outdoor adventures, fabulous dining spots and wonderful shopping destinations.

To get your engine started, we've compiled several informative articles just for you.

Our first feature story (page 11) transports you to the town of La'ie, where the entertainment and lu'au hub known as Polynesian Cultural Center awaits. Our second feature (page 14) whisks you away to seven picturesque locations for that memorable selfie.

Finally, our Holoholo section (beginning on page 26), pulls out all the stops by presenting you with detail-filled maps of O'ahu communities, and an unlimited number of activities and events to attend, historical sites to visit, and dining and shopping locations to revel in.

When your visit is done and you're prepared to drop off your rental car, we've provided you with easy-to-return instructions (page 8) prior to your check-in at the airport.

And with that, you're all set to begin a new adventure. So buckle up, put the car in DRIVE and enjoy the ride!

You will receive the latest issues* — the cover will differ than what is pictured here.

*Shipping should take at least 1 to 2 weeks.