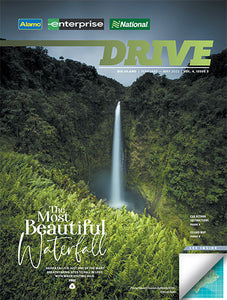 E komo mai, or "welcome" to paradise. Are you ready to experience all that Hawai'i Island has to offer? We hope so, because we're about to maximize your visit to the largest and youngest of the major islands in the Hawaiian archipelago.

This magazine has been carefully built and beautifully designed to steer you in the direction of awe-inspiring destinations. To get your engine started, we'll introduce you to a popular pastime on the island — visiting five of the world's most spectacular waterfalls (pages 6 and 7) — then point you to our detailed maps, which will help in navigating your way through unfamiliar surroundings.

Finally, when your visit is done and you're prepared to drop off your rental car, we've provided you with easy-to-return instructions (page 3) prior to your checkin at the airport.

And with that, you're all set to begin a new adventure. So buckle up, put the car in DRIVE and get ready to enjoy your ride!

You will receive the latest issues* — the cover will differ than what is pictured here.

*Shipping should take at least 1 to 2 weeks.