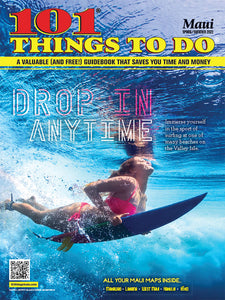 An oasis of majestic ocean hideaways, lush green mountains and picturesque beaches, the island of Maui epitomizes mythical wonder. In fact, the legendary demigod Maui is said to have lassoed the sun above HALEAKALA, the island's highest peak, forming today's Hawai'i as we know it. Maui may be the SECOND-LARGEST HAWAIIAN ISLAND, but the ancient saying "Maui no ka 'oi" insists, "MAUI IS THE BEST."

Wherever your plans take you, be sure to let Maui's culture captivate you. We await your return to Maui with 101 THINGS TO DO.
You will receive the latest issues* — the cover will differ than what is pictured here.  
*Shipping should take at least 1 to 2 weeks.