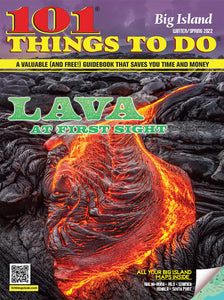 Hawai'i Island, the Hawaiian Islands' largest, youngest island, is one of Earth's greatest wonders. One of the island's the biggest wonders is Kilauea volcano.

Don't fret if you run out of time to experience everything Hawai'i Island has to offer. We'll be eagerly awaiting your next visit to Big Island with 101 THINGS TO DO.
You will receive the latest issues* — the cover will differ than what is pictured here.  
*Shipping should take at least 1 to 2 weeks.